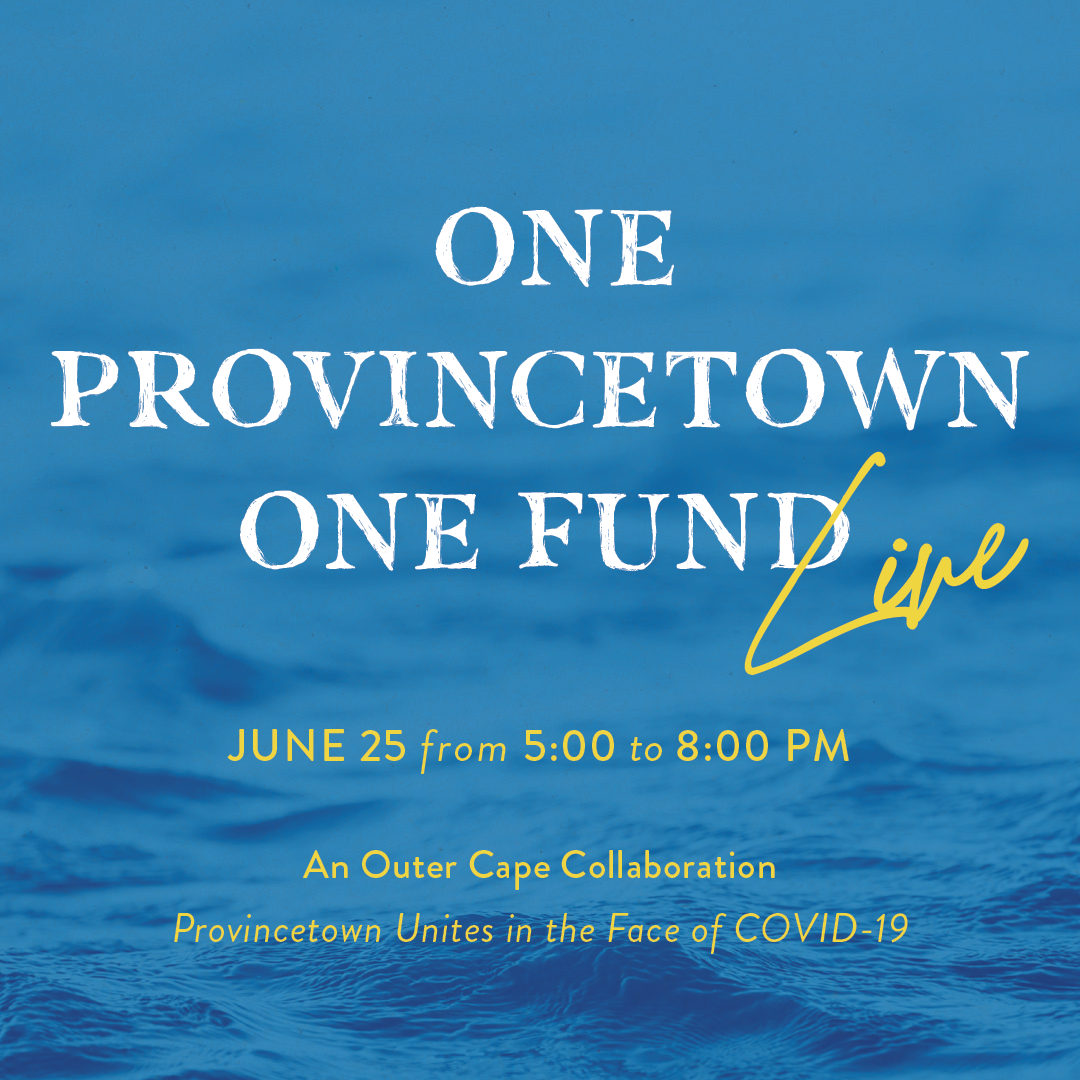 Provincetown Unites as ONE to Help Outer Cape Non-Profits
Non-Profits will produce a livestreaming fundraiser "One Provincetown, One Fund – LIVE!" on June 25th

(Provincetown, Mass.) – Eighteen non-profits from the Outer Cape announced today that they will produce and participate in a joint livestreaming fundraiser, One Provincetown, One Fund – Live! on Thursday, June 25th, 2020. This 3-hour Outer Cape collaboration will be broadcasted live on Facebook and Provincetown Community Television starting at 5:00pm.

The idea came out of an April 2020 meeting of non-profit leaders, convened by Provincetown Commons, to share with each other the needs and concerns facing Provincetown's non-profit community due to the outbreak of COVID-19 in the Commonwealth.

Due to the pandemic, many of the non-profits had to cancel their annual summer fundraising events which provide needed revenue to provide services to Provincetown and the greater Outer Cape region year-round. The goal is to not only raise funds in a time of need, but also raise the community's spirits as well.

What: One Provincetown, One Fund – Live!
When: Thursday, June 25th, 2020 from 5:00pm until 8:00pm.
Where: Livestreaming on Facebook: OneProvincetown.org and Provincetown Community Television.
Donations Accepted: OneProvincetown.org - donors can contribute to the general ONE Fund to distribute funds to all eighteen non-profits, or donate specifically to a participating organization .

One Provincetown, One Fund will support the Outer Cape non-profit sector that feeds the community, provides health and human services as well as supports the arts, culture, housing, social justice issues, the environment and economic development.

Now, with the challenge of a global pandemic and civil rights crisis, Provincetown's legacy of community-building and resiliency in the face of adversity is more important than ever to uphold.

In Their Own Words: The Importance of One Provincetown, One Fund- LIVE!

Dan Gates, AIDS Support Group of Cape Cod:
"When we started our meetings in March which led to the creation of this One Provincetown, One Fund event, we initially focused on non-profits located in Provincetown. Then, over the course of planning, we realized the importance of expanding our reach to the Outer Cape because we truly are an interwoven regional community from Provincetown to Eastham. One Provincetown, One Fund's goal is to ensure that residents of the Outer Cape have continuous access to a vibrant non- profit community that remains sustainable during the COVID-19 pandemic."

Sarah Nitsch, Cape Cod Children's Place:
"Cape Cod Children's Place is excited to be a part of the One Provincetown, One Fund-LIVE event because we understand it is community that will help us all during this challenge of COVID-19 and we are stronger together than apart. This event will help each of us to continue our valuable work of providing services in this beautiful community."

Britt Beedenbender, Community Development Partnership:
"This event is a wonderful opportunity to collaborate with a group of non-profits who serve Provincetown and help make this community so uniquely special. It provides us all the chance to share the work we do that serves this community with the public and underscores the importance of the non-profit sector in providing programs that support the arts, housing, economic development, social justice issues and the environment."

Gwynne Guzzeau, Helping Our Women:
One Provincetown, One Fund is good news! Whether you live in town, work here, or simply visit on occasion -- we want to reach out and give you a taste of Provincetown and an inside view to our community in action. As a diverse group of nonprofits, we represent the many ways that Provincetown & the Outer Cape is good for you: from direct health care, to social service supports, to environmental concerns, and the arts & culture organizations that feed our soul. Join us for some ocean air like no place else on earth!

Steven Roderick, Lower Cape Ambulance Association Inc.:
"Provincetown and Truro have a long history of banding together in times of need and during emergencies. Working together with so many non-profit organizations is one of the best ways of standing together for the greater good."

Kathleen Weiner, Outer Cape Health Services:
"Outer Cape Health Services is very proud and grateful to be a part of the One Provincetown, One Fund–Live Event. Nothing quite defines the uniqueness and multiple facets of Provincetown like its not-for- profit organizations. From entertainment and the environment, to the arts, social services and health care, the full spectrum of the community's needs is represented through this historic event. We know that our care for the community will be reflected by the community for these beneficiary organizations which help to define Provincetown as such a unique and special place for all."

Mariana Robertson, Payomet Performing Arts Center:
"We are thrilled to be a part of the Outer Cape community. This place is special - and the organizations that work to protect that specialness and make it accessible to all are vital. In times of difficulty, we think it's more important than ever to come together as a community."

Dr. K. David Weidner, Pilgrim Monument and Provincetown Museum:
"The Pilgrim Monument serves as a beacon of tolerance and acceptance, welcoming ALL to Provincetown. Since 1910, the Pilgrim Monument continues to welcome pilgrims from across the globe. We are happy to participate in One Provincetown, One Fund as we are the oldest non-profit on Cape Cod and look forward to collaborating with our fellow non-profits."

Christopher Busa, Provincetown Arts:
"When Provincetown Arts began to publish in 1985, there was no serious commentary on the local cultural scene, which astonished me, the son of an artist who had witnessed the vibrancy of small- press literary magazines and artist-run little magazines. The manifestos and missions of various art and literary movements served to identify the individual participants; even the ads served to identify their supporters. Robert Motherwell and Harold Rosenberg started Possibilities, documenting the major doings in the New York art world in 1950.

When Ray Elman and I started Provincetown Arts, I knew that I wanted to endure longer than the single year that Possibilities existed. Year by year, we have improved the publication and our 35th annual issue is a stellar recognition of the continued vitality of our enduring art community. One Provincetown is a combined community effort to sustain our century-long vitality!"

Christine McCarthy, Provincetown Art Association and Museum (PAAM):
"In times of uncertainty, it is extraordinary that 18 non-profits organizations can combine talents to raise awareness of such a special place - Outer Cape Cod."

Jay Critchley, Provincetown Community Compact:
"The mission of the Compact since 1993 is nurturing community. In the words of local Portuguese immigrant poet, Grace Gouveia, 'Provincetown will grow a cosmic land, to hold the castle bred, to hold the polyglot, to hold creator man, and take the poor in hand'."

Tracy Pease, Provincetown Film Society:
"The Provincetown Film Society is a gathering of people, culture and stories. Whether it's in a cinema, a film festival or online, it's in our DNA. At this moment in time, I can think of no better opportunity on June 25th, than to join hands with our comrades for One Provincetown and One Fund to tell many brilliant stories."

Ken Abert, Provincetown Tennessee Williams Festival:
"It's been a great experience getting to know the other non-profits on the Outer Cape. I am so impressed how everyone came together in such a short amount of time during uncertainty to support each other."

Hilary McHugh, Soup Kitchen in Provincetown (SKIP):
"Provincetown has always been a place where the community has joined forces to come together to help one another through thick and thin. This is just another great example of how we are coming together as one united force to support each other through these challenging times."

Jill Stauffer, The Commons:
"Against the dire forecast of fundraising this summer, rises this amazing group of non-profit leaders who have banded together to produce a joint event and create a story of how impactful collaboration is. It's inspiring to see our community come together during this challenging time of Covid-19."

Dawn Walsh, The Lily House:
"We are excited to be part of One Provincetown, One Fund because we believe in the loving and creative power of community to support each other in times of need."

Cherie Mittenthal, Truro Center for the Arts at Castle Hill:
"We are very excited to be part of this joint effort to raise money for all of the non-profits in the region. Castle Hill has been part of the Lower Cape Community for close to 50 year and this may be the first time there is a joint effort!"

Kristina Kearns, Twenty Summers:
"Twenty Summers is honored and delighted to work together with our Provincetown colleagues to raise much-needed funds for arts and culture organizations, environmental organizations, and health and human services organizations that have been heavily impacted by COVID-19. Provincetown is a community of resilience, one that has overcome many obstacles and adversity for many centuries and will undoubtedly do so again".